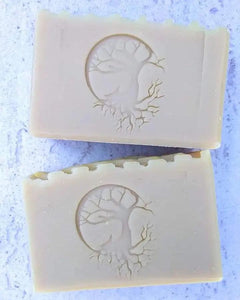 Beeswax Coconut Honey Soap
Made with skin loving butters & oils.
Blended with our raw (Cody wax)rose beeswax & a heavy dose of our natural cocoa butter & creamy organic coconut milk.
Naturally Scented(unscented)
 Great for dry/sensitive skin.
This soap is a sure winner!   It has all the loving qualities of natural soap, without all the fancy smells and colors. Dye Free   Fragrance Free   Chemical Free    Natural Soap Each bar weights between 4-4.5 oz
*To prolong the life of your soap, it is best to always use a water draining soap dish. Always leave your soap out of the way of the spray of the shower and allow it to dry completely between uses.     
This will ensure your soap bar has a long lasting life!