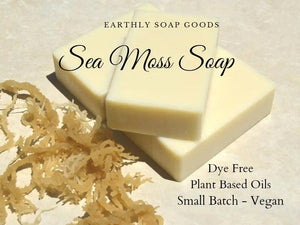 Sea Moss Soap, NOW AVAILABLE 
This Soap has been specially formulated with a raw powerful blend of natural Irish Sea Moss.
Sea moss is an algae that helps promote collagen production. It is also known to plump your skin, smoothing wrinkles and leaving a natural glow. 
Packed with vitamins, minerals & antioxidants. 
9.50 per bar.
Vegan, Dye Free, Unscented 
Olive oil, coconut oil, cocoa butter, Shea butter, castor oil, sea Moss gell, sunflower oil.