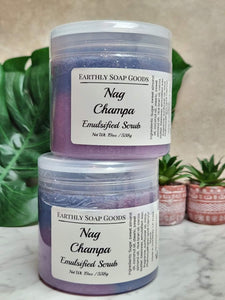 ✨️Nag Champa Emulsified Sugar Scrub
Now back in stock!
This huge jar is 19oz. A wonderful blend of cocoa butter and skin loving oils with sugar for exfoliating.
This is an emulsified Scrub, meaning it will not spill. This is a solid until you rub it into your skin. It'll leave your skin feeling soft, smoother & moisturized.
19oz jar
Ingredients, sugar, sweet Almond oil, coconut oil, stearic, rice bran oil, cocoa butter, beeswax, e wax, fragrance , mica, preservative.