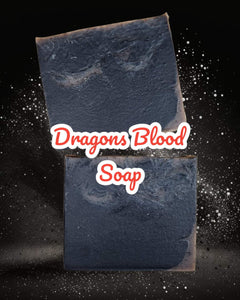 Dragons Blood Soap 
Made with real Red Sandalwood & Dragons Blood resins. (This Soap may stain a white washcloth due to its high natural resin content.)
❤️Activated charcoal & Red Sandalwood help to remove dirt and grime without over drying the skin.
Great for all skin types. Vegan.
Ingredients: Olive oil, coconut oil, cocoa butter, water, sodium hydroxide, Shea butter, castor oil, rice bran oil, fragrance, Red Sandalwood, charcoal powder.
*To prolong the life of your soap, it is best to always use a water draining soap dish. Always leave your soap out of the way of the spray of the shower and allow it to dry completely between uses.     
This will ensure your soap bar has a long lasting life!