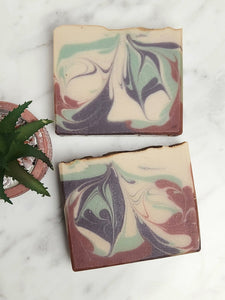 Raspberry Patchouli, Aloe Vera Soap
Vegan
4.5oz bars
Strongly scented of juicy berries & patchouli.
Ingredients, Olive oil, aloe vera juice, cocoa butter, coconut oil, castor oil, water, Shea butter, sunflower oil, fragrance, mica colorant, titanium dioxide.
*To prolong the life of your soap, it is best to always use a water draining soap dish. Always leave your soap out of the way of the spray of the shower and allow it to dry completely between uses.     
This will ensure your soap bar has a long lasting life!